North Korea summary
Dr. Norbert Vollertsen, who had the unique experience of working in North Korea, writes in the Wall Street Journal:
"A human tragedy of hellish dimensions continues in North Korea.  … As I wrote for this newspaper in April 2001, 'In the hospitals one see kids too small for their age, with hollow eyes and skin stretched tight across their faces. They wear blue-and-white striped pajamas, like the children in Hitler's Auschwitz.'
"An unknown number of North Koreans, possibly as many as 300,000, have defected to China. These brave men, women and children risk their lives to flee the mass starvation and brutal oppression brought upon them by a Stalinist regime.
"Sadly, Beijing's official policy has been, and remains, to arrest the refugees and forcibly return them to North Korea, where they face imprisonment, torture and in some cases execution. Until recently, these refugees' stories and China's practice of refoulement, or forced return, went largely untold."
North Korean refugees in China face particularly dangerous and life-threatening consequences if arrested and repatriated to North Korea, including extended detention in prison camps, torture, forced abortions (in the case of North Korean women carrying babies fathered by Chinese men) and public execution.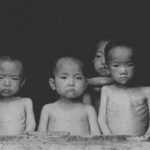 North Korean defector Kang Chol-Hwan, author of The Aquariums of Pyongyang, writes: "The plight of North Koreans today very similar to that of Jews during World War II. …The methods of killing are different, but everything else is the same. When I see photos of the Jewish genocide, my heart just breaks."
Rabbi Abraham Cooper, associate dean of the Simon Wiesenthal Center and member of the North Korea Freedom Coalition, suggest a more accurate parallel would perhaps be "Joseph Stalin — he built the gulag."
Suffice it to say, the state of human rights abuses inside North Korea spans the issues of injustice, state-enforced poverty, denial of freedom of speech, and denial of religious freedom.
An 'underground railroad' provides logistical support to guide such refugees to safe havens in countries that border China.
When learning of the plight of North Koreans, many feel the need to raise public awareness of the lamentable state of human rights inside North Korea and of the refugees in China.