North Korea's Chairman Kim Jong Un wants to meet with President Trump again, says South Korean President Moon Jae-in, who has just returned from Pyongyang.
Moon also spoke directly to the North Korean public, describing a peaceful future to an audience of some 150,000 people. "We had lived together for five thousand years but apart for just 70 years," Moon said in his speech on Thursday. Moon continued, "Here, at this place today, I propose we move forward toward the big picture of peace in which the past 70-year-long hostility can be eradicated and we can become one again."
"The spectacle of the South Korean president speaking to wildly cheering crowds of North Korean fans was one of the memorable moments of the Pyongyang summit," NPR's Rob Schmitz reports from Seoul. "Moon said that he and North Korean leader Kim Jong Un had agreed to measures that would completely eliminate the fear of war and the risk of armed conflicts on the Korean Peninsula."
O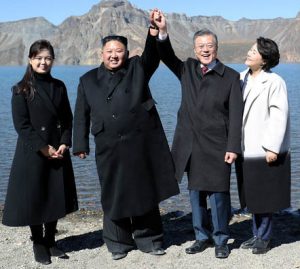 n the final day of the summit, Moon and Kim took a symbolic step toward peace, traveling outside the capital to visit Mount Paektu – a famous and revered volcano that's also the highest point on the Korean Peninsula, situated along North Korea's border with China. The two leaders and their wives posed at the site for photos, standing in front of Heaven Lake — a lake in the caldera of the sacred volcano.
South Korean President Moon expects to see President Trump in New York next week, when he attends the U.N. General Assembly.
[NPR]
This entry was posted in DPRK Government, Kim Jong Un, Ri Sol Ju, Uncategorized by Grant Montgomery.