On Wednesday, North Korea's Foreign Ministry said it won't surrender to U.S.-led sanctions and accused Washington of trying to "bring us to our knees." U.S. officials have said the sanctions will stay in place unless North Korea takes significant steps toward nuclear disarmament.
A statement from North Korea's foreign ministry today said the U.S. "viciously slandered" the country, citing the recent release of US State Department reports about human trafficking and religious freedom that rank North Korea poorly, and Secretary of State Mike Pompeo's comments on Sunday reiterating that 80 percent of North Korea's economy remains under U.S. sanctions.
North Korea also said that South Korea must stop trying to mediate between Pyongyang and Washington, as it stepped up its pressure on the United States to work out new proposals to salvage deadlocked nuclear diplomacy. The North Korean statement was an apparent continuation of its displeasure with Seoul and Washington over the stalled diplomacy.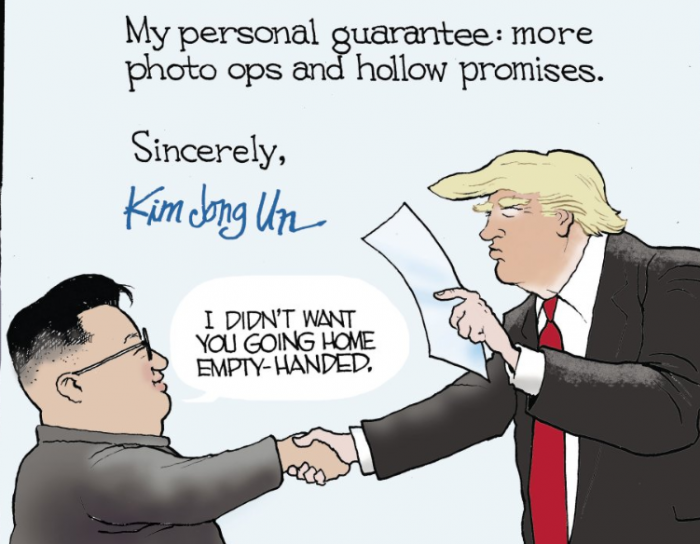 Talk of a revival of diplomacy has flared after Trump and Kim recently exchanged personal letters. South Korean President Moon Jae-in said earlier this week that U.S. and North Korean officials were holding "behind-the-scene talks" to try to set up a third summit between Trump and Kim.
Meanwhile, fears are growing that North Korea has detained an Australian student living in Pyongyang, Alek Sigley, potentially complicating efforts among some Group of 20 nations to get Kim Jong Un back to nuclear talks.
[AP]
This entry was posted in DPRK Government, Kim Jong Un, Uncategorized by Grant Montgomery.