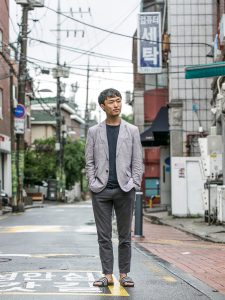 Kang Min, 31, left Bukchong, North Korea in 2007:
During the famine, my mother and I were traveling together, and I was about 10, and we got separated and I never saw her again. From that time on, I had to fend for myself. At first I was so hungry I would eat anything I found on the ground. I started begging, but people weren't offering food to me. So I learned to steal.
When I was about 15 years old, I began selling apricots on trains. Then I sold cigarettes, and moved onto plastic Chinese kitchen goods like lunchboxes and utensils, and at the end I was selling bicycle tires.
When I first got to South Korea, I could see that smartphones were big business, so I started an online store. Later, I would buy aronia berries, a popular health food, close to their expiration date, then sell them on the Internet. Then I started growing wild roses for making soap and room fragrance and tea. Working on online shopping platforms had opened my eyes to IT opportunities. So in 2016, I also started a website design business. That's my main business now.
When people realize I'm from North Korea, they say: Do you even know anything about business or capitalism? But I had faith in my business acumen and my abilities, and now I'm getting inquiries about franchising my tofu rice business. I'm going to the United States to learn about entrepreneurship.
In the future, I want to be in a business related to North Korea so I can help children who had a difficult childhood like me.
[Washington Post]
This entry was posted in North Korean refugee by Grant Montgomery.