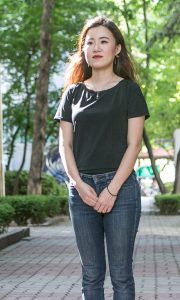 Park Su-hyang, 27, left North Hamgyong in 2009:
I worked in a convenience store to make money to pay back the $12,000 in debt I had to the broker who got me out of North Korea. I was also preparing for my college entrance exam, and in 2014, I started studying social work at university.
I realized that South Koreans didn't know the reality of North Korea. There are aspects of North Korea that are exaggerated in South Korea, sensationalized for political reasons. I wanted to tell people about real life inside North Korea and make sure they knew that there are humans who are living there. Although I consider myself an introvert, I felt that I could do it on YouTube.
The most popular video I have posted is "10 Things that I Found Most Interesting in South Korea." I talked about how surprised I was to see so much variety on television in South Korea. In North Korea, there's only one television channel. I also thought it was amazing that you could turn on the tap, and hot water would come out. At home in North Korea, we had to boil water to have a bath. I think this video was popular because South Koreans want to hear about South Korea more than they want to hear about North Korea.
I don't earn much money from doing this, but that's not the reason I do it. I really want to separate the lives of the North Korean people from politics and counteract the exaggerated views of North Korea. With these videos, I hope I can promote mutual understanding.
[Washington Post]
This entry was posted in North Korean refugee by Grant Montgomery.